Thinking about all the things that have happened this year (and there was a lot).
The successes I achieved
The decisions I made (both bad and good)
The lessons I learned.
and would I change anything - except for maybe having a more positive attitude? - Nope, I wouldn't change a thing. I am content.
Not that I complain of want; for I have learned, in whatever state I am, to be content.
Philippians 4:10-12
I do miss David and for financial reasons, he will be working overseas for one more year. (Sigh). After that he is coming home and if we have to move to parts unknown, to be together, then we will. Separations are the pits of the cherry bowl.
Oh well.... As Mary Englebreit aptly states, "Life is just a chair of bowlies."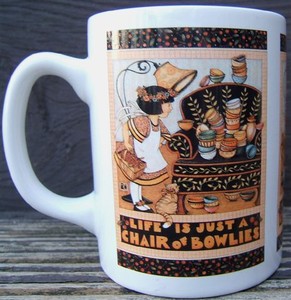 A New Year is fast approaching. I need a more positive attitude this year. This last year was tough.
So as I sit down to make my New Year's I CAN list.... I will add - I Can be positive and have a right attitude.
I will also add:
I Can lose the last 30 pounds
I Can run a 1/2 marathon and more 5k's and 10k's and 15 k's and mini-triathalons
I Can write a blog everyday...
I Can work more, renew my teaching license and apply for more teaching positions.
I Can go visit David in Germany
I Can be the person, parent, mamaw, woman, God wants me to be and be proud of it!
My favorite quote from last year
If it Matters you make the time.
If it doesn't you make Excuses!